Hello all,
Due to developing yet another hair brained scheme I will offer my Davrian for sale to fund the nonsence. Don't worry, though if no-one wants it then I'll keep slowly building it.
but here's the summary:
It's around 1967/68 and has been used as a racer for as long as living memory, having spent most of it's life on circuits over in Ireland, there have been a lot of tales of it being a car that Will Correy had, but that cannot be determined, we do know it's not
the
works car, for that's back with Tim Duffee, but this does sport a lot of good features. It has the Davrian modified fully adjustable rear suspension, based on imp trailing arms but modified for coil overs and adjustable shocks. The front suspension is imp modified swinging arms, with the later style front suspension triangulation for the coilovers. this car is loooooowww!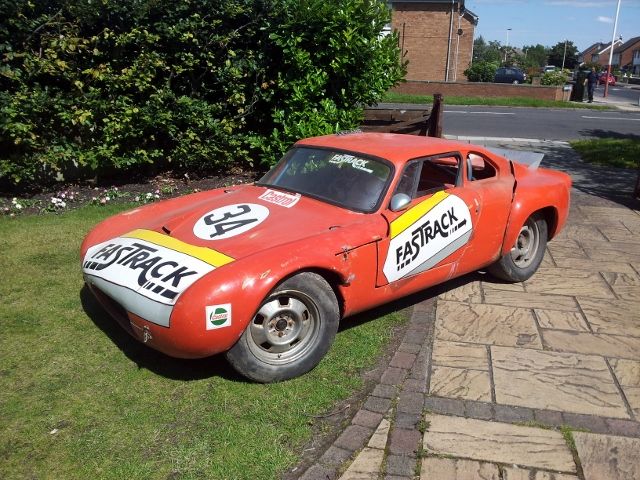 The front is a heavily modified mk4 with wide arches, the rear is a mk6 with mk7 arches, and has an awful lot of venting, apparently it did run an alfa flat four for a while, but all it present for an imp box and engine. It has the 1" driveshafts fitted.
It arrived (and is photographed) with it's "transit wheels" which are off a Talbot Rancho! I've also a set of M*n* minilite style 13" by 6" wheels that could be used on it.
It has the twin tanks still fitted, and the radiator is fitted and seems good. It has it's screen in good condition too.
The doors are extensively lightened and as you'd expect from a racer. What is intruiging is that due to it being an early one it does not have a thick layup on the shell, apparently the earlier ones were built as road cars firstly, so no forrest spec heavyweight shell.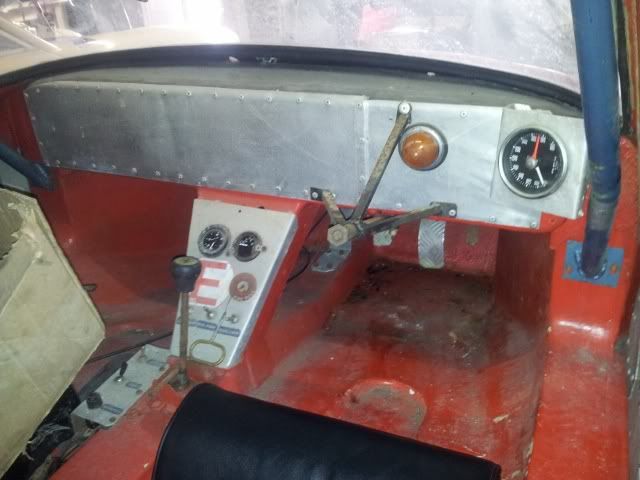 It has a full cage, the rear half picks up the turrets and is quite a good design, I have also used this to suspennd the engine mounts from, a little unusual but means a very lightweight method of keeping the engine off the floor.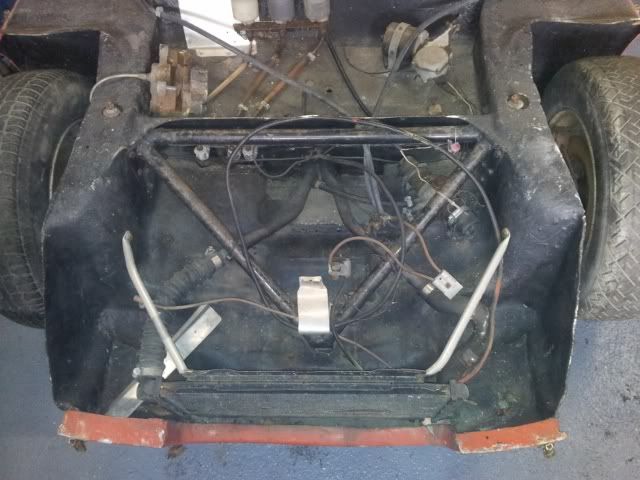 It has the Davrian modified disc brakes all round but is missing the rear calipers, the fronts are present. The bias adjustable pedal box is in place, with master cylinders (although they are old).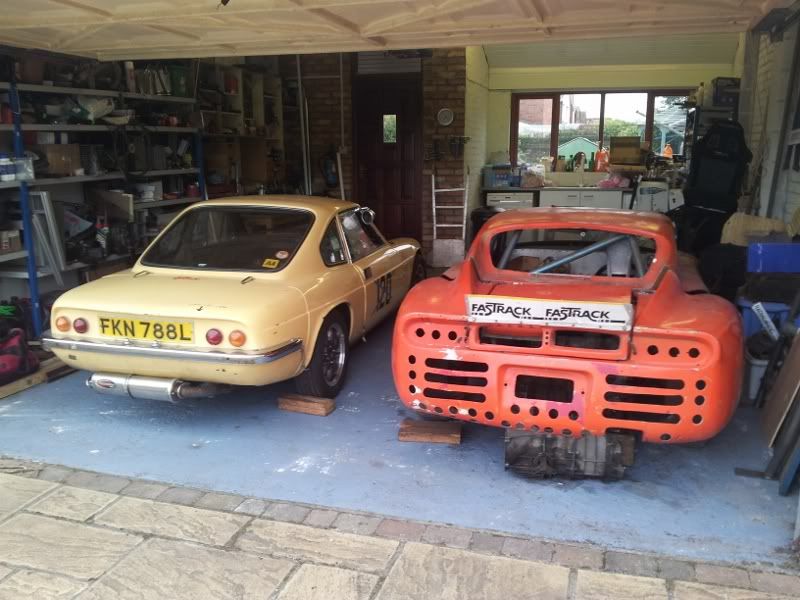 My plans were to sprint the car instead of my G15 and to run it with a turbocharged engine setup, but you may fancy another route, so the price depends on quite what you want to have with the car, so here goes!
Rolling shell, as above, standard gearbox, well I think it's standard, it had helical gears but I can't be bothered to count teeth, grubby mk2 engine and a very broken 998 (5 998 pistons, one crankshaft with roller bearing end bush, an early 998 block with a big hole in the side and one knackered liner): £2,000 ono
Rolling shell, as above, standard gearbox from the above list, very nice L4 engine which is complete, van pistons, and turbo inlet manifold and T2 turbo that need a rebuild, which is the spec I was building towards: £2,500 ono
Rolling shell, as above, the standard gearbox from my G15 with the Sunbeam Imp Sport 890cc balanced engine with an R17 spec camshaft, lightened flywheel from the G15, running Strombergs and Janspeed large bore exhaust through a Scorpion end can, which would make it nippy enough: £3,000 ono
Or the Kahuna, ultimate behemoth, moon shot, equaliser, A-Team build, which would be a good for a classic race hillclimb or sprint class:
Rolling shell as above, close ratio straight cut gearbox, 998cc engine with a imp sport head and cam, pair of weber '40s and a combined manifold (which needs a little repair) £4,750 ono
Phewee! What an ace load of justice you will be buying with this, or if you prefer you could offer me around £9,000 for the Ginetta, which has just been resprayed too!
So, the car is in Southport, feel free to phone 07786 070732 or pm me and I'll let you have all the information you want!
Cheers, and see you on the track!
Sam